Another release, another blog post that begins with some comment about the weather. Let's dive into the release.
As always, this blog is to help me remember and to help you remember what the notable updates are.
User Experience
Lightning
It'd be remiss of me to not mention that lightning is here to stay. I won't bore you, but there's a lot in the release notes around enablement and how you can make sure you and your org are ready for lightning.
Prompts
There's now the ability to set controls around the prompts that your users encounter in your org. I think this will really help with adoption so you'll have the ability to tailor messages better than you can right now. Additional reading.
Recycle Bin
You asked. I asked. We all asked for this. You no longer have to go to classic to get to the recycling bin. Well, for most things. The new recycle bin available in lightning is the "org recycle bin" while classic is the "all recycle bin." One limitation with the new recycle bin is that you cannot restore reports and dashboards from here; you need to go to classic. More details here and here.
Printing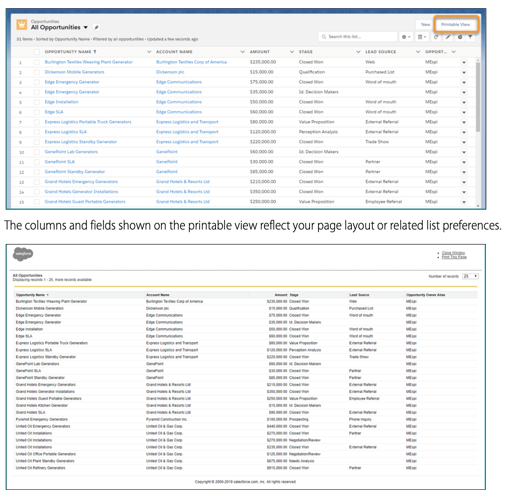 There's now a printing view which will condense the text in your view. N.B – This will only work on most core objects.
App Navigation
You can now link to another app within Salesforce. This is neat as it's kinda like a deep link, but accomplishes similar functionality. URLs to launch an app will look something like this:
/lightning/app/standard__LightningSales/o/Case/home
Search
Grab a nice glass of cider and cozy up here, because there's a lot of updates in search.
First, search is now going to be very personalized. With the Einstein Search Permission license, you can search and fine tune your results by location, activity, ownership, and specialization.
Instant results are now here, just like most consumer facing search applications. I'm not sure I like this as I'm really used to faceting and finding the information I want, but I'm open to the change.
Lastly, is it me or is Salesforce's search starting to emulate SharePoint. If you're not a fan of instant results, the recommended results and profile specific results may be up your alley. These can be tailored to individuals within the org based on the search layouts assigned to users with the Einstein Search Permission Set license. Read more here and here.
High Velocity Sales
Neat things in HVS this release include the overdue inclusion of cadence branching and the ability to see who's working a prospect via the Sales Cadence Assignee field.
Sales Cloud Einstein
I confess I did not know this was a limitation until this release, but this is a nice add: you can now expose opportunity scores in standard reports WITHOUT the need for custom report types.
Also, now in Inbox reps will get reminders without the extension open to log emails if they're doing it manually. This is really going to help drive adoption by sales teams. If you're not using Inbox or SCE, give it a good look as it really provides a lot of value to your team.
Sales Cloud
Lots of great small gems here.
With account teams you can now specify when team members roll on and off with start date and end dates. Having come from a project-based background, this would've been fantastic in a previous life.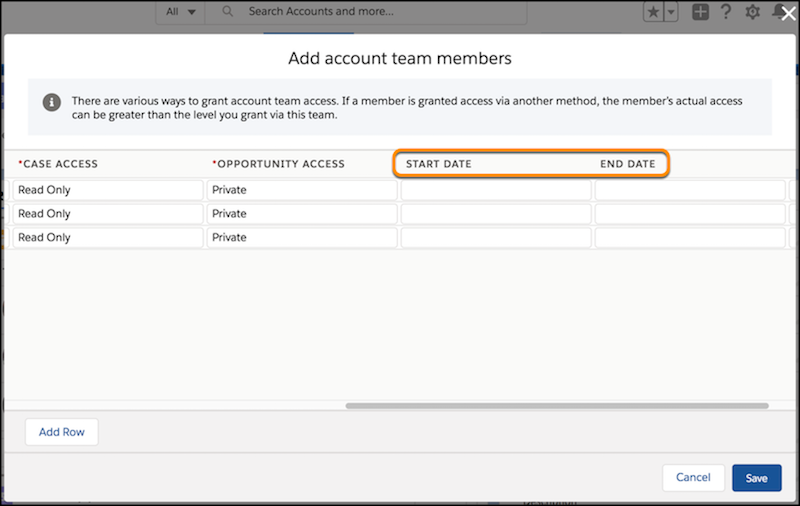 With native quotes you can now configure the line items, up to 200 lines. See this related item too.
Service / FSL
Surprise – there are some good gems here too.
Bots can now use knowledge articles. This creates a really compelling argument that organizations need bots more than ever to help deflect case loads, because now they'll have even more data to deflect additional cases. When the bots need to punt over to their human overlords, they can let the customer know the agent's availability.
One more thing about knowledge, it's now everywhere. All channels. It's not just there in a tab for reference, it's the real McCoy now.
Of all the SKUs we offer, digital engagement might be my favorite. And here's another reason why. With DE, you can now initiate an outbound conversation with a customer from the contact detail page.
One last item of note: in the FSL mobile app you can now log time directly in the app.
Analytics / Einstein
There's a lot around analytics this release. If this release doesn't excite you, there's some cool stuff around the corner and if that doesn't excite you, well, I can't help you.
First, data sync is now enabled by default. And if you often wonder when your data syncs ran, there are now reminders. And if you like your data always up to date, you're going to love these new data sync increments: 15, 20, 30 min, 1 hr.
Speaking as someone who accidentally deleted an analytics dashboard right before a demo, I'm excited and relived that you can now restore your analytics content easily in the UI. For the most part. If you want to restore a lens or a dataflow, you'll need to make an API call. Link.
Candidly, I find analytics dashboards to not be the fastest thing out there. That's where CDN can be our friend. I believe this is going to be essential for all users of analytics.
"Fields? We don't need no stinkin' fields." – Einstein in Salesforce.
The above quote may not have actually happened, but it's true. Your predictions in prediction builder no longer need a field. This is a rather interesting update, but it makes sense if you want insight around how things have worked across all objects.
Analytics notifications are getting an interesting companion in the form of "subscriptions." Now instead of getting piecemeal emails, you can create a subscription that'll email all of your widgets to you at your convenience. This looks really slick.
The last thing in analytics this release is you can finally get analytics in the new Salesforce app. There will still be an analytics app, but now you can make dashs available without having to write VisualForce.
Miscellaeous
I've heard several complaints from customers around performance, and obviously the product teams have too. To help improve performance, a new caching model was unveiled, which means that page updates may not appear until 15 minutes after you update them. The biggest take away here is that while you can make configurations rapidly as you always have been able to, you may need to have users log out and in to see said updates.
Conclusion
I obviously skipped over a lot. I picked the updates that I see as valuable to me as a solution engineer, but that also reflect a lot around the maturity of my customers. I hope if you're not on lightning that you have all the tools you need to make that migration happen.
Take a breath and finish that glass of cider if you haven't already. Just when you're going to get comfy with all of these release updates, Dreamforce is going to be here sooner than later and there's going to be a lot of neat stuff that we'll all be drinking from the firehouse come mid-November.