When Salesforce announced it was going to build a new building in Chicago, I thought to myself, "That'd be an interesting FOIA request." I thought it would be an interesting request because the mayor at the time, Rahm Emanuel, was very pro-business and also was an avid user of a personal email for city business.
I wanted his emails to know what exactly transpired over email to get to this announcement. But instead, I found the request and subsequent appeal process, and Rahm's mailing list to be much more interesting than what I originally sought.
I submitted my request in May and appealed in early June, but did not receive records until late August. Never once did I hear from the Mayor's Office FOIA officer until one day an email from the City of Chicago Department of Law arrived with a PDF attached. This flummoxed the Deputy Bureau Chief, in the Public Access Bureau who I was working with on the appeal. Never once did the Mayor's Office even acknowledge my email or request, and they were radio silent through the entire appeal process.
I was curious how Rahm communicated with Salesforce. For the most part, he emailed CEO Marc Benioff as part of his weekly media email blasts. The FOIA request revealed who else is on that list. In no particular order, Michael Amiridis – Chancellor at UIC, Marc Benioff, Greg Brown – CEO at Motorola, James Carville, Jamie Dimon – CEO at JP Morgan Chase, Austan Goolsbee – Professor at University of Chicago, Laurence Fink – CEO of BlackRock, Oscar Munoz – CEO of United Airlines, Penny Pritzker, Tom Ricketts – Owner of the Chicago Cubs, Howard Schultz – CEO of Starbucks, George Stephanopolous – ABC Anchor of This Week, which Rahm is now a weekly speaker on, Paul Gigot – columnist at the Wall Street Journal, Carl Hulse – New York Times columnist, David Ignatius of the Washington Post, and the heads of every major museum in Chicago.
Here's everyone if you're interested.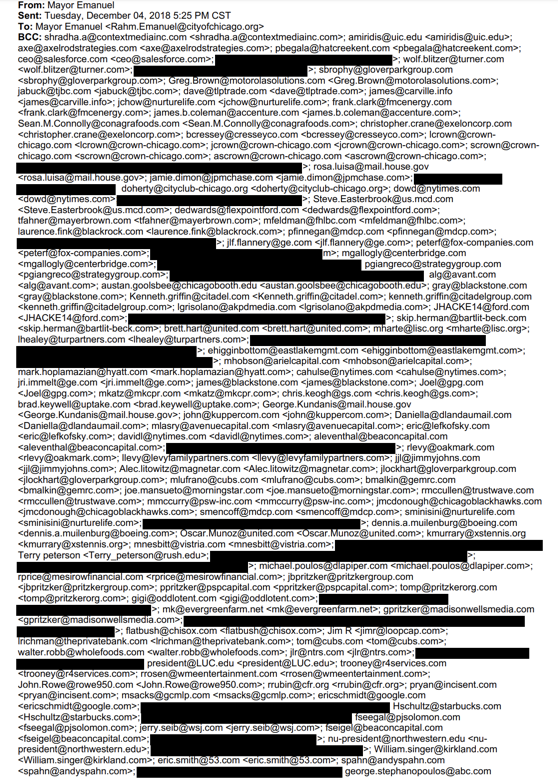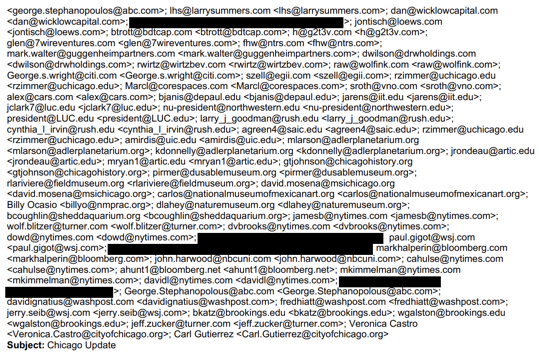 But to my original question, there isn't much of an email trail around what transpired to help secure that building. I suppose I could file a lawsuit to get these from his personal email, if they exist.
With my request, I did learn that Rahm took two Salesforce executives to a Loyola game in March of 2018, and in October 2018 Rahm later emailed an article about buildings to Marc Benioff.

The Salesforce Tower Chicago was announced on November 29, 2018.
Authors' Note: Even though Salesforce is my employer, I did this request on my own as a private citizen. No one at my organization asked me to submit this request.